European Advertising Campaign & Brand Collaterals
Toyo Tires
Understand tyres, connect with a diverse European market and build a brand
The advertising campaign shows the tire being tested, manufactured and engineered by a series of intricate and complex machines which highlight the specific product benefits. All individual products and the various test environments were photographed and then modelled in Cinema 4D. This technique allowed the campaign to work seamlessly across media with animated sequences created for television advertising and online content. Engine Creative also worked closely with the Toyo Tires European marketing team to develop an effective media strategy that includes national and trade press, television and POS.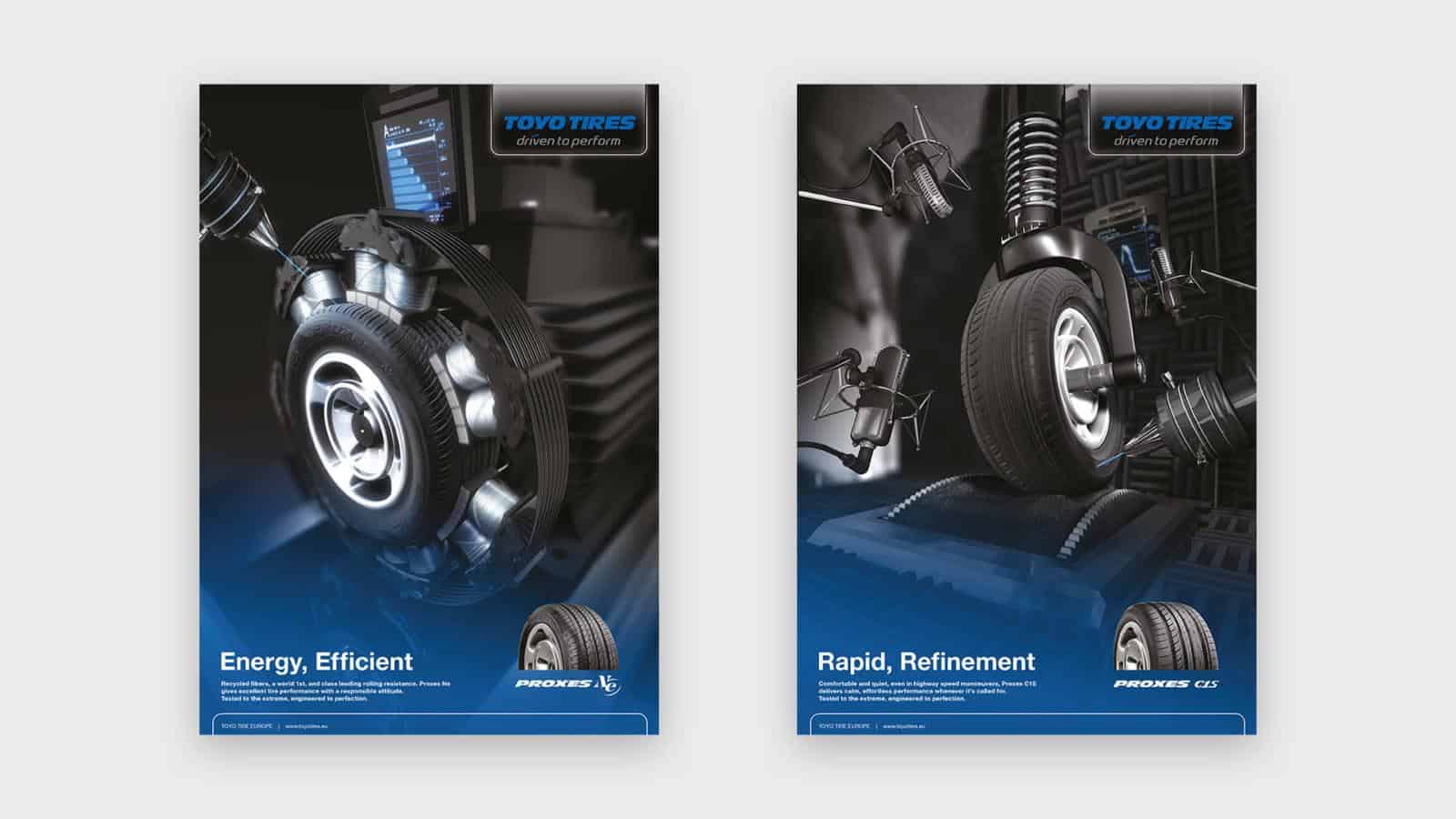 An understanding of the various cultural and language differences across Europe was key to the success of this European campaign and the creative solution needed to work across products and media whilst also being able to be easily translated. Engine Creative won a 15-way pan-European pitch (beating esteemed advertising agency Saatchi & Saatchi and 13 notable others in the process) by producing a campaign that highlights the drive, dedication and the great lengths that Toyo Tires go to in producing the best tire.
Brand engagement
Brand
The campaign has been rolled out to additional European territories to extend the reach of the brand
Multi
All multi language asset distribution has been handled by Engine Creative
B2B
A B2B campaign has been created to support the consumer activity
Create a dynamic product visualiser and sales presentation for a European wide sales force
In partnership with Toyo Tires Europe, the Engine Creative digital agency team set about consolidating the existing Toyo Tires sales presentations into a single, consistent, beautiful and dynamic products visualiser and sales tool for a Europe wide sales force.
Live and interactive
Built using cross-platform web technologies, the resulting app adopts a slick, minimal UI, and includes stunning 3D animation and CGI product visualisations which enabled the sales team to highlight the technical innovation at the heart of the product development, with 360 interactions and cross-section views of all tyres.
As well as creating a rich and interactive presentation, the marketing team was also able to distribute a single, up-to-date presentation via the cloud to the entire sales team across Europe whilst dynamically updating and pushing new product data on a regular basis via a bespoke CMS.
Enginnovation at heart
With innovation, quality, performance and service excellence at its heart, the Toyo Tires brand has a global presence built up over 70 years. European sales are driven by a team that is spread across a diverse continent with a complex distributor network.